HIGH BRIGHTNESS
INJECTORS
THERMIONIC RF GUNS FOR HIGH CURRENT AND PHOTOINJECTORS FOR SUB-MICRON EMITTANCE
RadiaBeam continues to achieve and then exceed new levels of performance for high brightness injectors with innovations in design, precision manufacturing, and testing, from our latest cutting-edge thermionic RF guns to each new generation of Photoinjectors, improving upon the original introduced 20 years ago.
THE AEGIS RF THERMIONIC GUN: A 200% PERFORMANCE IMPROVEMENT OVER THE COMPETITION
The Aegis Thermionic RF gun is a high-performance, high-reliability electron source first developed to meet the requirements of the Advanced Photon Source Upgrade (APS-U) at Argonne National Laboratory. The first unit was successfully commissioned at this flagship synchrotron light source. It delivered a 200% quality improvement over previous thermionic guns. RadiaBeam has since provided three production units to the APS-U.
Before we ship the Aegis gun to a customer, we tune (photo), bake, and condition it to demanding specifications.
THE AEGIS GUN: HIGH REPETITION RATE AND HIGH RELIABILITY
Our Thermionic RF gun features a state-of- the-art RF design and an easily-replaceable cathode that produces a 1 Ampere 3 MeV electron beam. During operation, an innovative cooling scheme keeps the cavity in resonance even at high repetition rates while large apertures maintain excellent vacuum performance. Multiple field probes can be used to monitor beam energy and an optional viewport can be used to visually monitor the cathode. These features make it ideal as a light source injector but it can also serve as a standalone beam source.
Our Thermionic RF gun is available with several options, including a range of external couplings and matched alpha magnet for bunch compression.
RADIABEAM PHOTOINJECTOR GUNS: A 20-YEAR HISTORY OF U.S. DESIGN, MANUFACTURING AND TESTING
RadiaBeam is the only U.S. supplier of photoinjector guns with the highest brightness and the cleanest beams. Our proven photoinjectors are used to drive high-power X-ray sources and synchrotron sources in the U.S. and around the world. Our team worked on the original 1.6 cell UCLA/SLAC/BNL photoinjector guns and have made continual improvements since then. Each subsequent model is updated to deliver an ever-improving level of performance and reliability.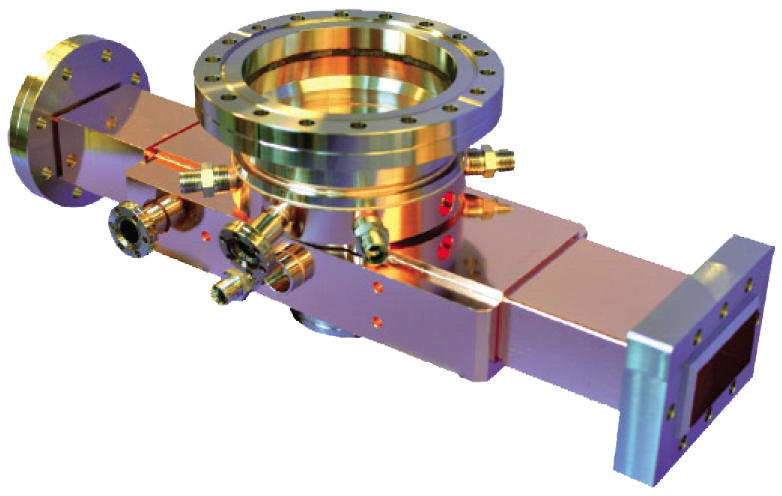 THE 1.6 CELL PHOTOINJECTOR IS PACKED WITH INNOVATIONS
The RadiaBeam High Repetition Rate Gun features several innovative features, including Z-coupling and enhanced cell-to-cell coupling to produce higher mode separation, symmetric couplers to minimize the dipole mode, and racetrack irises to minimize quadrupole field components. These features, currently found only in state-of-the-art photoinjectors such as the LCLS Gun and the RadiaBeam-produced Sincrotrone Trieste Fermi Gun II and STAR Gun, are achieved with a simpler and more economical single-feed design.
The RadiaBeam High Repetition Rate Gun is available with several options, including a range of external couplings, a matching emittance compensation solenoid, and precision alignment stands. We also offer turnkey services or full injector line development and production. Other options are available upon request.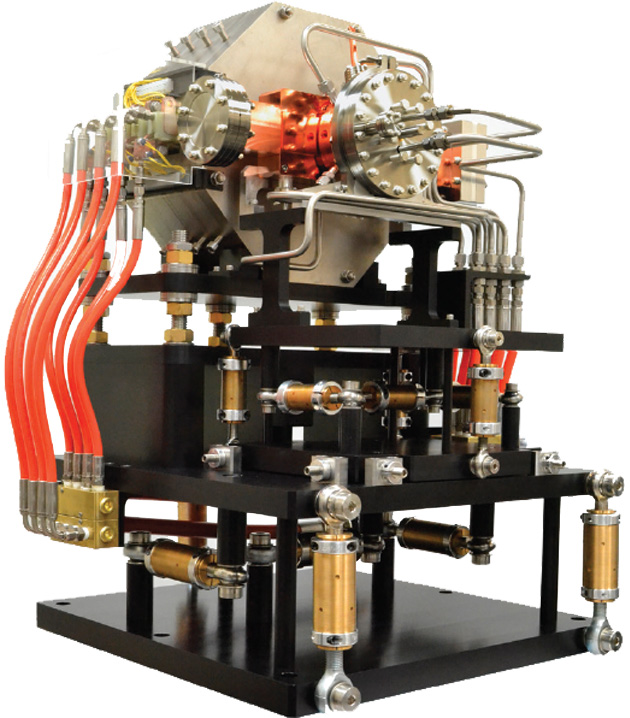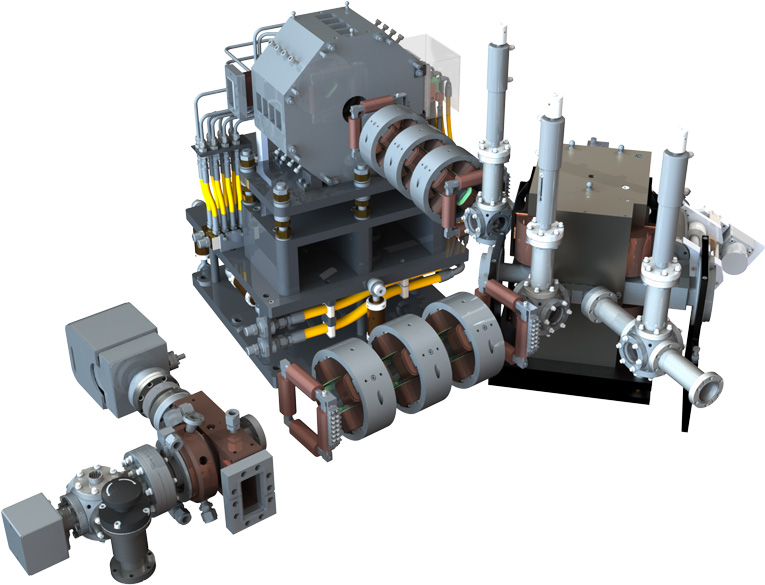 TWO GUNS CAN BE BETTER THAN ONE
Several labs would benefit from a dual system to take advantage of the respective strengths of the high current thermionic gun and high-brightness photocathode gun based on User requirements: a beamline including magnetic elements for focusing and pulse compression, vacuum system, optional controls, and RF system. RadiaBeam dual source system, which allows switching or interleaving between two guns on the same beamline, is shown in the figure at the left: an injector combining our 1.6 cell photocathode gun and an Aegis thermionic RF gun with its alpha magnet compressor.