SAFE, FAST IRRADIATION AT ANY POWER AND OUTPUT LEVEL
Wherever you need to be on the power spectrum, RadiaBeam offers a full range of accelerator-based irradiators to fit your size requirements, improving safety and throughput. We have compact, self-contained irradiators in the 1 – 3 kW range for applications including research, blood irradiation, and the sterile insect technique (SIT). Our high power 5 – 10 MeV linacs provide U.S. made 20 – 35 kW solutions for large scale service and manufacturing facilities from medical device sterilization to food irradiation.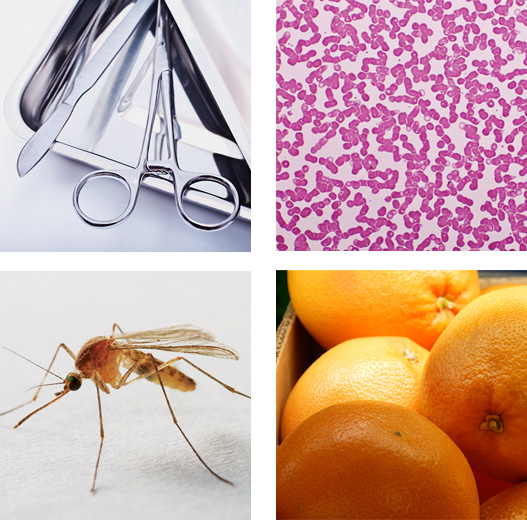 STERILIZE, TREAT, OR TEST WITHOUT HIGH-RISK ISOTOPES OR CHEMICALS
Our irradiators, based on innovative particle accelerator technology, are a U.S.-made, high-throughput replacement for irradiators based on radioisotopes (Co-60, Cs-137) and toxic gases (Ethylene Oxide). National security and human safety concerns are driving replacement of isotope-based systems by electronic sources. But alternatives based on X-ray tubes don't produce adequate energy for effective penetration. RadiaBeam's irradiators deliver high-energy electron beams and X-rays for a wide range of applications safely, uniformly, and efficiently.
SELF-CONTAINED, COMPACT IRRADIATORS IN YOUR CHOICE OF CONFIGURATION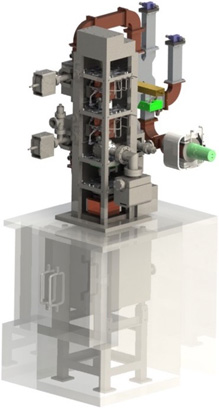 Our self-contained irradiators are available in a range of configurations to fit your application. Are you replacing Cs-137? Go with 2 MeV. Replacing Co-60? Go with 4 MeV. Need energy variability? No problem.
Other options include types of output (electrons or X-rays), dosing schemes, types of beam spreading, and beam orientation. For example, our self-contained system for SIT (Sterile Insect Technique) uses a horizontal X-ray output to uniformly irradiate a rotating canister. A vertical e-beam system can be used for electronics testing.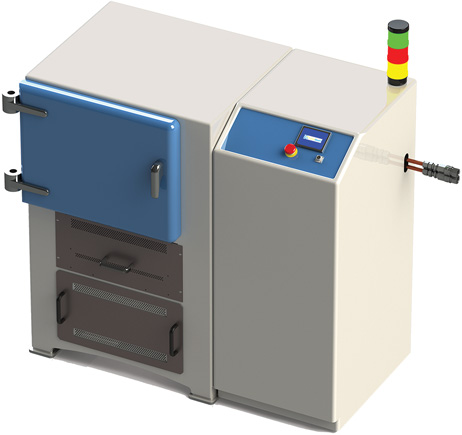 HIGH POWER LINACS FOR PANORAMIC IRRADIATORS

Integration into your production line
Our high-power linacs can be used for in-line irradiation, delivering high-powered electron beams and X-rays that achieve optimum penetration at speed as cartons with medical disposables or food move along the conveyor. We will customize the delivery to fit your operation: Full beamline with delivery horn, a turnkey irradiator with complete control system, or, in collaboration with our partners, a complete facility from the ground up.
RF technology: Efficiency and power
The most cost-effective accelerator technology with sufficient power for sterilization is called the Radio Frequency Linear Accelerator, or "linac." The electron beam is accelerated to a kinetic energy of 5 – 10 MeV using a resonant radiofrequency structure. The beam is then scanned in the transverse direction, while a conveyor moving in other direction ensures that the product is irradiated uniformly.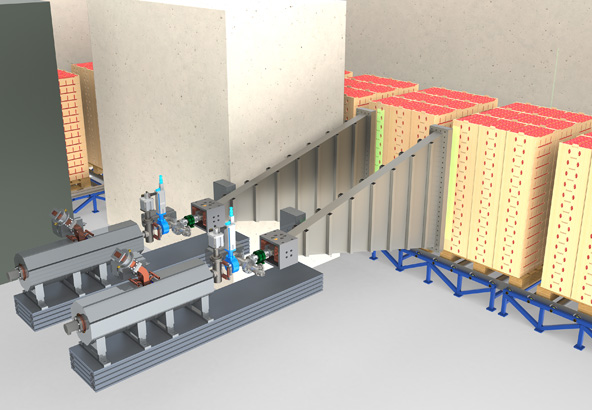 OUR VERSATILE FLEX LINAC
The most used linac at RadiaBeam is named FLEX, which stands for Flexible Linac for Electrons and X-rays. This is our workhouse for X-ray inspection services. It plays a key role in our partnership with a leading global provider of innovative inspection solutions and services. FLEX is also used for a wide range of other applications, from irradiation studies to medical R&D to FLASH cancer therapy.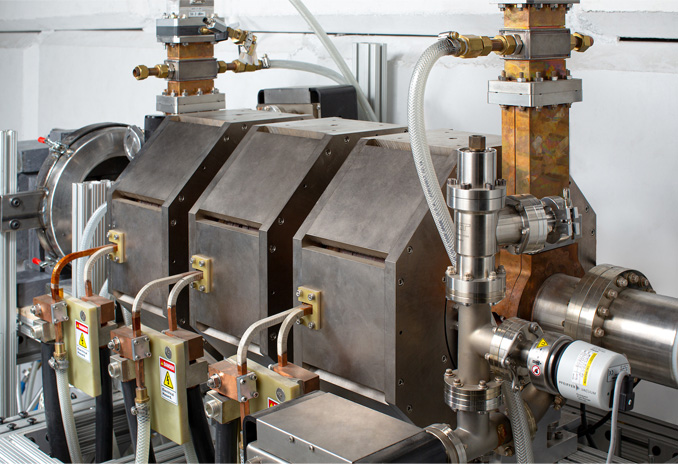 COMPONENTS AND SYSTEMS FOR OEM PARTNERS
RadiaBeam also offers irradiator system configurations and components for original equipment manufacturers, whether you need the irradiator structure only or the complete source. Our team will work closely with you customize a component or system that meets your objectives. We offer 5 and 7.5 MeV X-ray sources and 10 MeV electron irradiators with 18 – 35 kW of beam power.